Dealing with restless children during a car ride can be difficult for any driver, but what if you had a great way to entertain your kids and all of your other passengers? A car video system from Auto Trim Design of Amarillo can help you make sure that your passengers are never bored on the road again. When you turn to us for car DVD installation, we'll offer you top-notch products and expert installation to take your in-car entertainment system to the next level. No matter what kind of car audio/video system you're looking to install, our experienced team can help make your dream a reality. If you live in or around Amarillo and are looking for a really rocking new mobile video system, call or e-mail us today!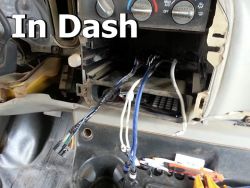 Car DVD players are some of the most popular mobile electronics available, and this is generally because they offer benefits to drivers of all kinds. Whether you constantly have anxious children in tow or you commute with coworkers, a car video system is great for everyone. Sometimes, these devices are the only reason that parents get any peace and quiet at all in the vehicle. With a brand-new car DVD video system from Auto Trim Design of Amarillo, you can pop in a movie for your kids to watch while you spend your time focused on the road ahead. You'll be amazed at what this investment in your vehicle will offer you in return.
Our selection offers a great range of possibilities to suit your particular vehicle and mobile video preferences. We have a wide variety of car DVD players and screens, and we can make recommendations regarding installation and features to ensure you get the setup that's right for you. In addition to offering car DVD players, we can also provide you with a wide range of other mobile electronics that will make your ride much more pleasant. From backup cameras to in-dash navigation systems, we can meet your on-the-go needs.
Quality Mobile Electronics Installation
At Auto Trim Design of Amarillo, we value quality craftsmanship, which means that you can count on us to deliver first-class results time and time again. Our insured car audio/video technicians will take great care to give you a stunning new mobile video system that will impress, and we use only copper wire for installations to ensure safe, durable connections. Our goal is to provide our customers with reliable mobile video installation that looks as great without a movie playing as it does when the system is running! Call or e-mail us today to learn more about your options for an in-car DVD system or to get a free estimate on our services.