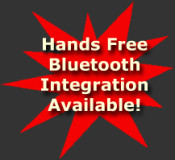 Portable electronics can be a great convenience when you're traveling in the car, but they can also be a hassle if you're dealing with cords and wires, not to mention juggling your iPod in your hand! If you want to enjoy the conveniences offered by these electronics but don't want to deal with the hassle, device integration from Auto Trim Design of Amarillo is the perfect solution. When you turn to us for assistance, you'll be able to interface your iPod or other electronics directly with your car's stereo and get rid of all the messy cords that often cause drivers anxiety. For iPod in-car radio integration, satellite car radio integration, and more, we're the pros that you can depend on. Call or e-mail us right away to benefit from the expertise of our mobile electronics installers!
iPod Integration
Are you tired of having to listen to static-filled radio stations while you commute? If so, then an iPod in-car system is the best choice to make your drive a more pleasurable and entertaining experience. With iPod in-car integration from Auto Trim Design of Amarillo, you'll be able to enjoy your favorite tunes while you're behind the wheel. Rather than fumbling with wires and cords, you'll be able to control your playlist from your vehicle's radio display, significantly cutting down on the distractions you face while driving. If you're looking for a safe way to enjoy music while you're behind the wheel, an iPod in-car radio integration system is the right choice. The insured installation experts at Auto Trim Design of Amarillo will ensure that your iPod car integration system is installed smoothly and with great care for your maximum enjoyment.
Satellite Radio
Are you tired of listening to endless commercials when you're driving to work or school? Is a static-filled radio getting on your last nerve? If so, then a Sirius satellite radio from Auto Trim Design of Amarillo is a smart move that could turn your commute into something much more pleasant. By installing a satellite car radio, you'll be able to listen to your favorite radio stations no matter where you drive, which means you won't have to worry about going out of range and missing out on the stations you love.
When you come to our team for satellite car radio installation, you'll benefit from our 40 years of experience in the mobile electronics business. That means you'll get top-quality installation and superior customer service from the pros who have handled countless numbers of flawless satellite radio car installations before. From Delphi satellite radio to Pioneer satellite radio installation, we have your needs covered. To learn more about your options for Sirius satellite radio, call or e-mail our team today!