Take the hassle out of driving with in-car GPS navigation. A straightforward solution for reaching your destination with ease, navigation systems eliminate the need to read printed directions, fumble with maps, and even stop to ask for directions. Let Auto Trim Design of Amarillo make your driving experience less stressful and more enjoyable with an in-dash navigation system. With myriad helpful features and effortless touch-screen operation, your car GPS is sure to make reaching your destination a breeze. Call today to learn more about in-dash navigation for your car, truck, or SUV!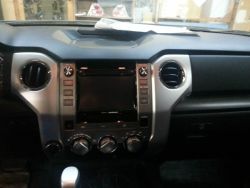 Among the most popular mobile electronics on the market today, in-dash navigation systems make it simple to get where you're going with easy-to-follow route guidance and audible and visual turn-by-turn directions. Automatic rerouting features can even help you get back on track when you make a wrong turn. Many navigation systems also come with point-of-interest mapping that helps you find gas stations, restaurants, retail stores, and other nearby attractions. Available as a factory option on many new vehicles, the convenience of a navigation system is easily and affordably within reach with a wide variety of aftermarket car GPS systems from Auto Trim Design of Amarillo! So whether you have a tendency for getting lost or are just looking to make driving simpler, our team of mobile electronics professionals can get you the navigation system that will make all the difference. Call now to get a free estimate!
At Auto Trim Design of Amarillo, we offer a number of models and options in car GPS. Our knowledgeable staff of sales professionals can discuss your GPS navigation needs with you and then help you select the equipment that best suits your vehicle and your requirements. We offer a variety of different in-dash navigation systems, and we'll help you weigh the benefits of each to determine which one best fits your car or truck, preferences, budget, and more.
And as your one-stop car electronics shop for complete navigation sales and installation, Auto Trim Design of Amarillo has the mobile electronics experts to bring you the best in top-quality installation. Experienced, qualified, and fully insured, our installers will ensure that your in-dash navigation components look fabulous, regardless of whether your vehicle came from the factory with a screen. We'll provide correct, competent installation so your car GPS has a smart, sleek appearance and performs optimally. Let our team help you get the most out of your vehicle with mobile navigation installation today.