The icing on the cake for vehicle customization is often window tint. An upgrade that maintains your car's interior and image, automotive window tinting is ideal for any vehicle. Equally attractive and functional, window tint protects the inside of your car, and thereby you and your passengers, from the damaging effects of the sun. With unique privacy options and affordable prices, window tint from Auto Trim Design of Amarillo is available to anyone who's ready to enhance the look and performance of their car or truck. Contact us today!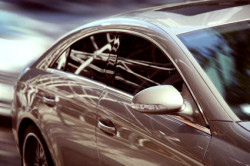 Window tinting enhances the look of any car, but its benefits extend far beyond the realm of aesthetics. In fact, the practical advantages of car window tinting far outweigh the prospect of a great-looking vehicle. While adding a sleek appearance to your car or truck, window tinting also offers the following advantages:
Protection from sun damage and fading
Insulation from solar heat, keeping your vehicle cool on hot days
Increased privacy
Deflection of 99% of UV rays
At Auto Trim Design of Amarillo, our line of window films is varied in order to ensure options that suit your individual preferences. We know you'll find your ideal auto window tint, whether you prefer the light filtration and UV-ray protection of lighter tints or the total privacy of darker shades. Best of all, automotive window tinting from Auto Trim Design of Amarillo also comes with premium installation craftsmanship. Our professionals perform flawless installation of car window tinting to ensure you get the most out of it. When you employ an inexperienced company to do the job, you're sure to see peeling, bubbling, wrinkling, and scratching in your brand-new automotive window tinting. Our team, however, has 40+ years of experience, and we ensure flawless installation. If UV-protection, light filtration, heat resistance, and privacy while you drive are appealing to you, Auto Trim Design of Amarillo is where you can turn for professional-grade auto window tinting.
Commercial and Residential Window Tint
In addition to auto window tinting, we also provide window tinting services for commercial and residential buildings. At Auto Trim Design of Amarillo, our team can offer you everything from residential window tint to reduce heat gain to decorative window films. Call us today to learn more!
Did you know that adding home window tinting can be just as effective as replacement windows when it comes to energy efficiency? Installing window films on your home or business could cost up to 90% less than having replacement windows put in throughout your home. And you get many of the same great benefits: UV-protection, reduced solar heat gain (up to 84%), and increased privacy. Residential and commercial window tint also has the added benefit of helping to hold window pieces and shards together in the event of breakage, protecting building occupants and contents from potential harm.
So if you're looking for a way to upgrade your property's windows without spending a fortune, you're in the right place. Learn more about window tint for home and business when you contact Auto Trim Design of Amarillo now. We're your one-stop shop for car window tinting, building window tinting, and so much more!